[1]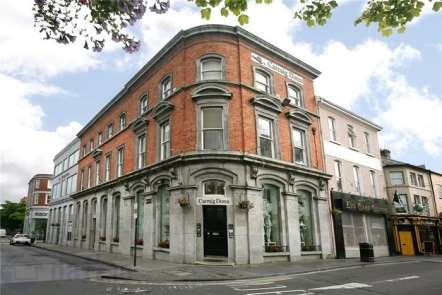 Overview:
Carraig Donn was established in 1965 and is now one of the largest solely Irish-owned retails. Carraig Donn (Ennis) is one of 36 stores across Ireland with a further two outlets in the UK. This premier retailer specialises in fashion, jewellery and giftware.
2. Target Market:
It sees its target market in the fashion area as females over 40, although they do stock some younger labels. The giftware/jewellery department, target a wide range of people including the tourist sector.
Carraig Donn (Ennis) is centrally located within the town of Ennis, competitively priced with a wide range of labels to choose from.
There are a number of competitors within close proximity such as Dunnes Stores, Kilkenny Shop and The Belleek Shop, but Carraig Donn has the added advantage of three different departments under one roof.
3. How the organisation presents itself to customers versus the customer experience:
Advertising:
There is a wide range of advertisement promotions which are done through the company website, online shopping, radio/TV promotions, regular in-store promotions, magazine/newspaper advertisements, fashion shows and sponsorship advertisements.
Sales advertisements with window signage 70% off can draw the customer in, but unfortunately can be misleading as it may only be on a few select items within the store.
ï'· Premises:
3 stories high
2 main entrances/exits
Double door & ramps for deliveries, buggies, wheelchair users
Lift with access to all 3 floors
Seven fitting rooms
café
Toilet facilities (non disabled)
Well presented & clearly labelled merchandise
Overall a very well laid out, clean premises
ï'· Services provided:
There are a number of different brands in each department to suit everyone's pocket.
Fashion brands

Jewellery brands

Giftware brands

J'aime Le Vie

Knight & Day

Nicholas Mosse

Kelly & Grace

Soul

Rebekah Kahn

Pala D'oro

Newbridge Silverware

Eoin O'Connor

Rowen Avenue

Coeur De Lion

Colm De Ris

Luzabelle

Ti:Amo

Genesis

Peruzzi

Tipperary Crystal

Waterford Crystal

Tandem

Momenti

Newbridge Silverware

Kallison

Pilgrim

Delphi

Vila

Glen Carraig

Vera Moda
ï'· How employees interact with customers and each other and management
The employees are friendly and well presented either dressed in black attire or the current fashion stock. The Giftware department have long-term staff, which run efficiently and smoothly. Whereas, due to the high turnover of staff in the fashion/jewellery department, product knowledge and efficiency are at times compromised. 
4. Potential positive and negative impact on consumer/users and on the business
Positive impact: Major advertising introduces new products, increases sales and fights competition.
Negative impact: Constant re-training of staff can lead to time wasting, inefficiencies and portray a poor image of the company. Customers like to build a rapport with staff and to see a familiar face.   
5. How the organisation caters for disability and diversity
Wheelchair friendly
Lift access
No disabled toilet
1 disabled parking zone across the street
Not child friendly (too many breakable items)
No loading bay as both entrances are on a main street 
Images of Carraig Donn Ennis
Figure 1Giftware Department 1

Figure 2 Giftware Department 2

Figure 3Jewellery Department

Figure 4Fashion Department 1

Figure 5Fashion Department 2
ï'· See attached compliment slip & jewellery promotional brochure/leaflet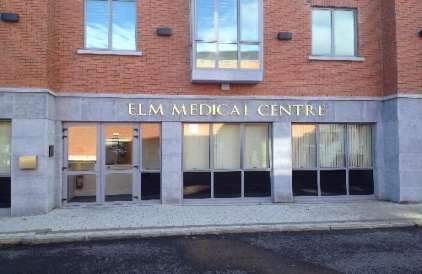 [3]
Overview:
Elm Medical Centre Company Limited was set up on the October 2014. Their current address is The Elm Shopping Centre, Gort Road, Ennis, Co Clare. The company directors are Judy Boyle who is practice manager and Dr. Dermot Boyle MD.
Elm Medical Centre provides a full range of general practice family services for medical card and private patients in Ennis and its environs. The practice consists of two full time doctors (Dr Dermot Boyle, Dr Marese Mannion), two nurses (Judy Boyle, Clare Corry) and one receptionist/administration staff Sinead McCarthy.
Target Market:
The target range is for standardised practice care to all age groups, race and gender.
There are 11 other medical practices within a 5km-radius.
The practice is ideally located on the outskirts of the town with ample free parking, in close proximity to the hospital and a pharmacy.
How the organisation presents itself to customers versus the customer experience:
Advertising:
Advertisements are mainly done through the company's website http://www.docvadis.ie/elm-medical-centre/member/dermotboyle.html, with occasional sponsorship advertisement.
Premises:
The staff are both efficient and friendly. The reception/phone is never left unattended. As this is a relatively new build, the premises are extremely clean, well laid out and wheelchair friendly. The reception area can be accessed from both the waiting room and entrance hall, which is great for privacy. There is also a separate play area for children.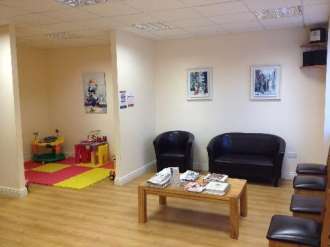 [4]
Figure 6Waiting Room & Play Area
Services provided:    
| | |
| --- | --- |
| Dr Consultation | €50 |
| Full medical check-up/including bloods | €80 |
| Nurse consultation/bloods | €25 |
| Electrocardiogram ECG | €25 |
| Driving licence (medical card & private) | €50 |
| Implantation insertion/removal | €80 |
| Ear syringing | €25 |
| Flu vaccine/ pneumonia vaccine | €25 |
| 24 hour blood pressure monitor | €75 |
| Cryotherapy | €50 |
| Travel vaccines | Dependent on destination |
Other Available Services: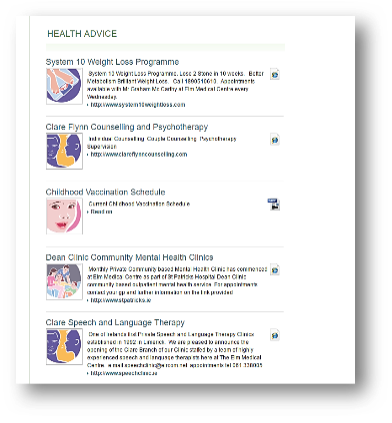 [5]
How employees interact with customers and each other and management
The staff and management of the Elm Medical Centre are professional, courteous and respectful of their patients' treatment, privacy and wellbeing. The management and staff seem to be very at ease with each other and this is reflected in their interaction with their patients. They are suitably attired in a professional manner.
Potential positive and negative impact on consumer/users and on the business.
The positive impact is the retention of clients due to excellent customer service.
The negative, is the lack of advertisement and loss of potential clients.
How organisation caters for disability and diversity
Wheelchair friendly premises
Disabled toilet facilities
Practice is on Ground level
Caters for all ages and ethnic groups
A play area for children
Seating varies in height and structure, suitable for all age categories
Free car parking with clearly marked disabled zones
ï'· See attached pamphlets
---